ACADEMIC LANGUAGE REMEDIATION PRESCHOOL
Rooted Life Montessori offers an Orton-Gillingham-based professional language therapy program for our preschool and Elementary students in Burleson, TX who experience language delays, including receptive, expressive or articulation challenges. Our program is designed to work for students with diagnosed dyslexia, dyscalculia, and dysgraphia, as well as undiagnosed handwriting, comprehension, spelling, and reading challenges or delays.
Our academic language remediation programs at Rooted Life Montessori include the Search & Teach Early Intervention program, SEE Language Program (IDA & IMSLEC Accredited), and RX Reading therapy. These programs are designed to help students work on specific areas of phonological awareness, visual and auditory processing, word attack, decoding and encoding, and reading comprehension from a young age.
SEARCH & TEACH EARLY INTERVENTION PROGRAM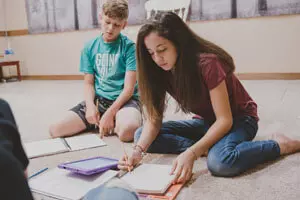 For children age 5 – 7 years.
Give your child a strong start in the learning process!
All children developmentally progress at various rates. If all modalities for learning are intact and strong then learning comes easily and naturally. They take in the learning task readily soaking it up and retaining it "like a sponge".
If these modalities are not firmly in place then avoidance behaviors and ways to compensate around learning tasks begin to develop. Frustration, anxiety and tension begin to form and learning becomes a struggle. This begins the process of a potential learning disability which can cause the child to experience delays in learning to read. Such early difficulties can lead to loss of self-esteem, which causes the child to lose interest in school.
LEARN MORE ABOUT SEARCH-TEACH
The SEARCH screening test is designed to identify potential vulnerabilities in specific perceptual areas related to the task of reading. If a significant vulnerability is identified then appropriate referrals or intervention can be made EARLY to remediate these weaknesses and prevent a potential learning disability.
The TEACH program is a one on one therapy program developmentally designed in a game format to target identified weaknesses and progressively strengthen them. The program is 2-3 days per week for 30 minutes each over the course of a school year. Children enjoy the program and feel successful in their progress. There are lots of rewards and positive reinforcement along with developing foundational learning strategies that will carry over to future learning.
SEQUENTIAL ENGLISH EDUCATION (SEE):
Sequential English Education (SEE) is an International Multisensory Structured Language Education Council (IMSLEC) accredited and International Dyslexia Association (IDA) accredited course utilizing structured, multisensory language instruction, based on the Sequential English Education approach for teaching reading/writing/comprehension/spelling and auditory discrimination and memory. In addition, for those who teach in a Montessori classroom, SEE blends easily into the Montessori methods.
LEARN MORE ABOUT SEE
Each SEE lesson includes the following:
Language: Each lesson presents the patterns of the English language to the student moving from simple to complex.
Alphabet: Visual recognition of upper and lower case letters and the sequence of the alphabet are covered.
Sound/Symbol Correspondence: The sound of each letter is presented and reviewed for automaticity.
Word Families: Perceiving the internal detail of words by identifying the word family within the word is practiced.
Decoding and Reading Comprehension: The therapy process begins with an emphasis on decoding, breaking words into parts and blending the parts into whole words. As accuracy improves, speed increases, fluency is improved, and then words are accurately decoded and defined. In addition, paraphrasing sentences helps to increase reading comprehension.
Oral Language Development: Each word that is decoded is defined and used in a sentence. Word meanings are the basis of comprehension of sentences, paragraphs, and stories. Each sentence is paraphrased insuring meaning and building vocabulary.
Handwriting: Each lesson includes a presentation of the letter being taught. This teaching is highly multisensory. The student traces the letter in their manual, on their memory board and writes it from memory on paper. As letters are mastered, letter connections, spacing, pencil pressure and consistency of writing slant are improved. Word and sentence writing expands to composition.
Spelling: As a student learns to decode the patterns of the language, he learns to spell those patterns. Reading, writing, and spelling are seen to reinforce each other.
Dictation: Each lesson provides that the student listen for words, phrases, and sentences and practice the skill of holding this information in memory while transferring it to paper.
Review: Review of previous material is built into each lesson. Reviews are also placed at regular intervals in the student manuals and surveys are given at the end of each of the three manuals to determine mastery.
Listening: Listening skills are enhanced throughout the SEE lessons, but an additional program, Auditory Discrimination, and Memory is an integral part of this program. These drills improve listening, following directions and spelling.
RX- READING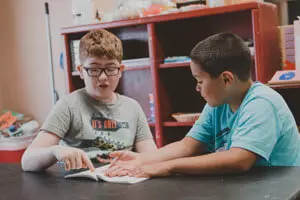 Rx for Discovery Reading is a reading program designed for children ages 6-18 who struggle to read. Using reading components from NILD Educational Therapy®, Rx for Discovery Reading is a multi-sensory approach to improving reading in a fun and effective way that helps to build and strengthen reading skills. This program does not require initial diagnostics.
LEARN MORE ABOUT RX READING
The 5 Major Components of Reading covered in the program are:
Phonological Processing: The foundation of reading, this is the ability to hear and manipulate the individual sounds in words
Decoding: applying sounds to the written symbols
Fluency: appropriate rate and phrasing
Vocabulary Development
Reading Comprehension